I am a Style Statement advocate.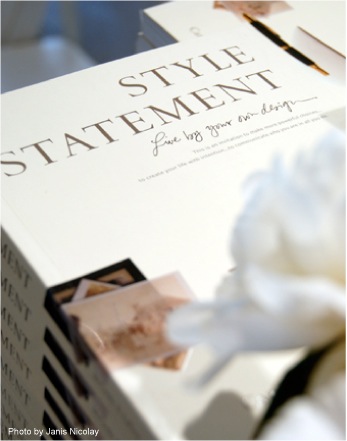 Photo by Janis Nicolay
I'm passionate about it. Not nearly as passionate as I am about my relationships, photogprahy, or other significant priorities - but I would DEFINITELY SAY that this book has completely revolutionized so much of my life.
The premise is this:
Each person is unique. We all have our idiosyncratic preferences that make us feel more comfortable, and because we're so multifaceted, identifying ourselves in one single category of style excludes the blending factor.
I can take a style quiz and find out that I lean toward sophisticated style.
But what about that part of me that
loves
Rachel Ashwell's Shabby Chic?
That's not as sophisticated as it is vintage…. And so I'm in a quandary.
My style quiz example doesn't capture the part of me that appreciates a weathered armoire.

But does that mean that my entire home needs to be filled with antique candelabras, loose fitting slip covers, and flaking wood?
Style Statement is based on the idea that your preferences are split – and decidedly
not
split down the middle.
Instead, they propose that it's an 80/20 blend.
In other words, 80% of my style preferences are based on one thing, and the remaining 20% is based on something else.
YES!!!, I thought as I discovered!
I
can
marry sophisticated style with feminine romance!
So, back to the book, it is a fantastic journey.
At least it was for me.
Why is this important, so you ask….
Simple.
If you make your decorating, fashion, food, vacation, whatever, decisions based on your blend, then your surroundings reflect what you love and you feel more at peace with yourself in the midst of life's details.
Now, let me just put this out there, if you're not happy with your life in general, you may need to do more than just
identify
your style statement.
But the implications made are far reaching.
If you're more comfortable in your environment, then you may feel more secure.
And if your clothing choices reflect your style statement, you'll feel more confident – more you and less like an impersonation of someone else.
A little confidence and security can go a
really
long way! And that's just the beginning...
Practicality, my friend.
Based on this theory and belief, I'm 80% one thing and 20% something else.
After a long,
long
, LONG journey (because I carefully, honestly, and intensely devoured the book), I have finally identified my blend.
Hello, I'm Elegant Feminine.
I'm Ethan Allen, Pottery Barn, and Layla Grace all wrapped neatly into one little Eldridge package.
What does that mean?
80% Elegant, 20% Feminine.
It might not be what you think – but when I see it,
Elegant Feminine,
it's like seeing my own name.
It means I love this chair...
And it means I love this ...
And 20% this...
Since putting myself through this process I can honestly say that making choices about my life has become so much easier.
And there is SO MUCH LESS buyer's remorse.
Do I like a haircut?
Is it elegant or feminine?
Will I love that sofa in 6 months?
Is it elegant or feminine?
I read somewhere, "Style Statement is like a really nice first date with your soul." I love that!!! To me, it feels so true. Being drawn to so many different styles, countless times I thought I loved something only to get it home and 2 weeks later realize that it doesn't make ANY sense in my house. It was great at the store - not so great around me.
Next, you'll see how the Style Statement played a role in the redecorating of my living room, foyer, kitchen, etc… This blog is all about life.
It's about enjoying your life and treasuring the things you love.
I'll be writing about photography in different styles of design, great display for portraits that are in keeping with your style statement, and how important it is to surround yourself with the precious!
Also coming up will be some Easter portraits that have been BEGGING to get on the site! Sit tight, friends. We're starting up the engines, and after a long - and painful on my end - winter, I'm back to blogging about portraits, photography, design, and life. WELCOME HOME!!!